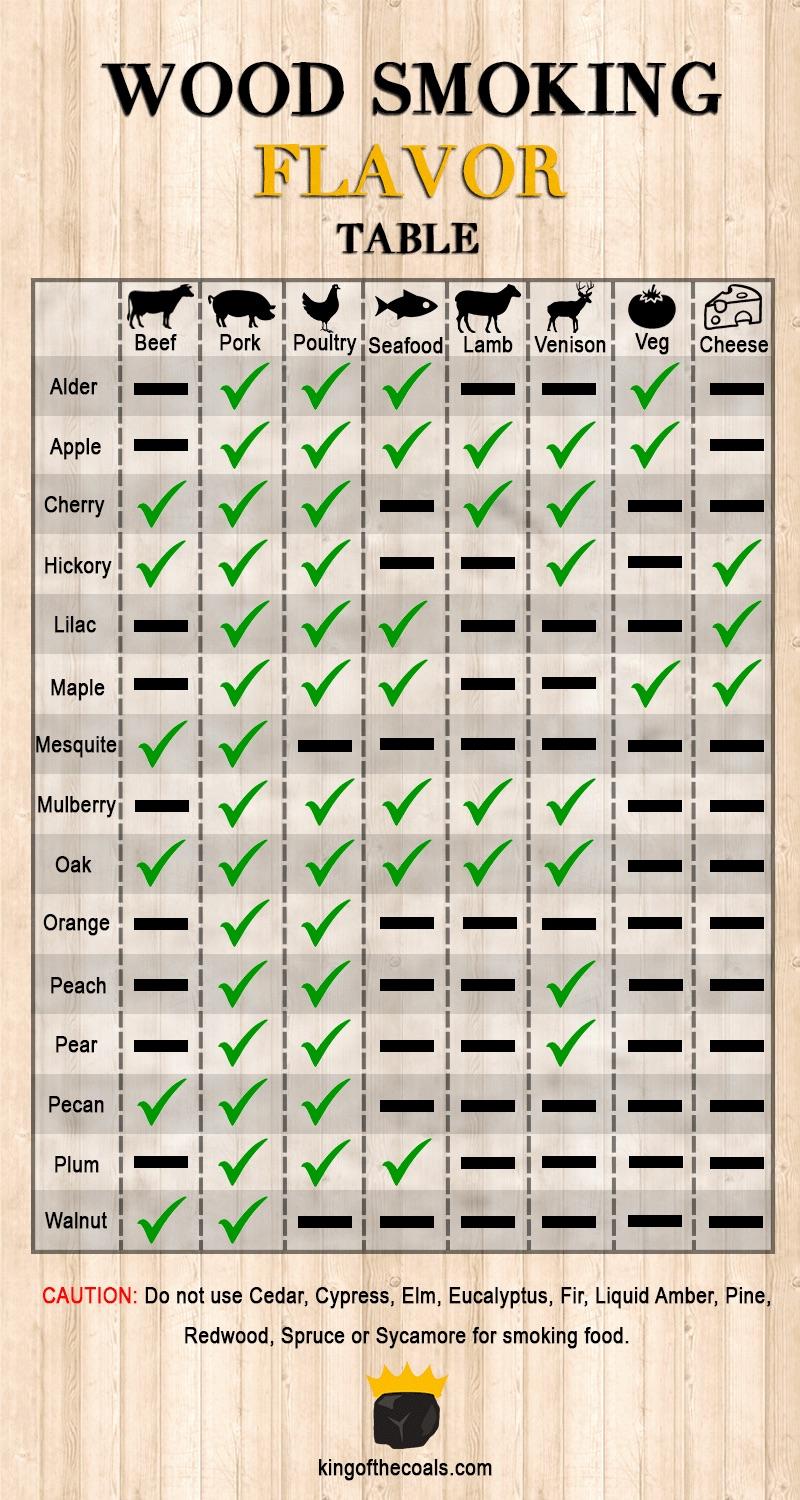 One of our goals here at SmokingWood.com is to help you identify the best wood for smoking different types of meat. Each type of wood produces a unique smoke flavor profile that will change that flavor of your smoked meat. For example, smoking using a fruit woods will give your meat a fruity flavor, while smoking using chunks of a hardwood like oak gives your meat a nutty, smoky, earthy flavor.
Best Types of Wood for Smoking Different Meats
During our research, we identified this smoking wood chart from kingofthecoals.com. It shows their suggestions for the best wood for smoking different types of meats. The meats covered in the chart are beef, pork, poultry, seafood, lamb, venison, vegetables, and cheese. The types of wood covered in the chart are alder, apple, cherry, hickory, lilac, maple, mesquite, mulberry, oak, orange, peach, pear, pecan, plum, walnut. Check out the smoking wood chart for yourself below: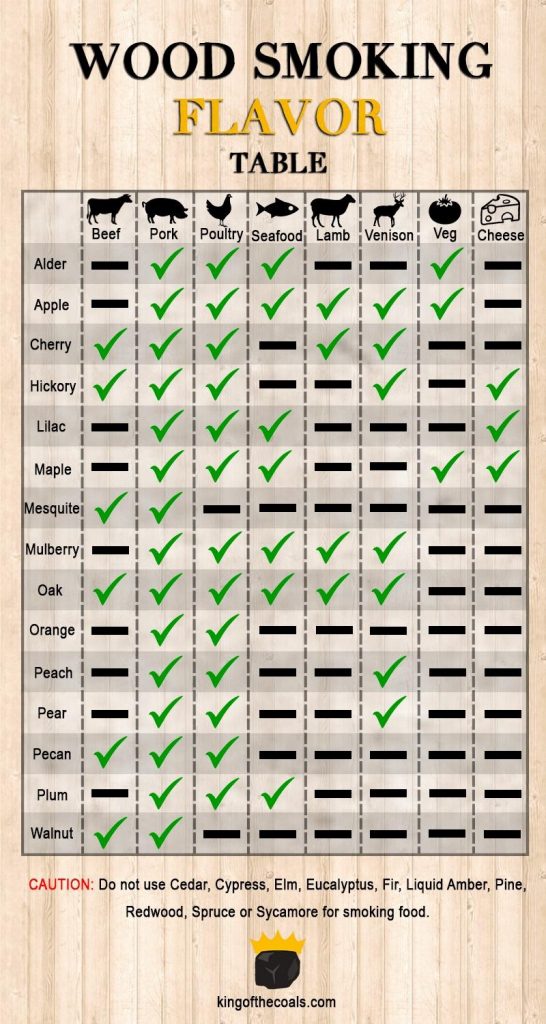 There are some changes that we would suggest to the chart. For example, apple wood is a great wood for smoking cheese. Also, mesquite is a great wood for smoking poultry such as chicken or turkey (although, some may consider the flavor of mesquite to be too strong.) What other suggested changes would you make to this smoking wood chart? Let us know in the comments!
Where to Buy a Smoking Wood Chart
Looking for a physical smoking wood flavor chart that you can take with you on the go? There are a few different smoking wood flavor guides that we recommend to our readers.
2023 Comprehensive Smoking Wood Flavor Guide The Only Magnet Has Latest Recommendations After 8 Years 23 Wood Types 12 Food Types As Double Than Other Meat Smoking Guides BBQ Gift Smoker Pellets Chips
LATEST MANUFACTURER AND CUSTOMER RECOMMENDATIONS: Unlike other meat smoking guides with over 8 year old outdated recommendations, we updated the wood flavor chart based on recent recommendations from thousands of customer reviews and over 15 major wood pellet chip chunk manufacturers.
DOUBLED FOOD TYPES: Unlike other magnets that only show 6 food types, our 10" x 7" wood flavor guide magnet has extended to 12 food types which include beef, ham, lamb, pork, ribs, venison, chicken, game birds, turkey, fish, cheese and veggies. No more searching or flipping pages. A hands-free reference guide that is handy to save time from checking your phone, computer or cookbook.
GREAT SMOKE FLAVOR FOR AWESOME TASTE: This wood flavor guide covers the common smoking wood flavors that many wood pellet, chip and chunk companies sell. 23 wood types including alder, almond, apple, apricot, ash, cherry, chestnut, grapevines, hickory, lemon, maple, mesquite, mulberry, nectarine, oak, olive, orange, peach, pear, pecan, plum, and walnut.
WATERPROOF FOR All WEATHER: This high quality magnet is made in USA and comes with 1-year warranty. Buy one for yourself and one for someone you love! Click the "Add to Cart" button on the right now! CAUTION: Do not stick the magnet to a surface that gets HOT, the magnet is NOT heat-resistant. Looking for more cool BBQ cooking gadgets? Check out our store at amazon . com/intelkitchen
PERFECT BBQ SMOKING ACCESSORIES GIFT: Unique designed and copyrighted by Intel Kitchen. This is a lovely and ideal gift for anyone that likes BBQ grilling or smoking. Great for New Year gifts, new homeowner gifts, birthday gifts, Father's Day gifts, Thanksgiving gifts, Christmas gifts, holiday gifts, BBQ gifts, best friend gifts, great gifts for men, and perfect gifts for boyfriend, husband, wife, son, daughter, dad and mom.
Sale
Cave Tools Meat Smoking Food Magnet Sheet with Wood Temperature Chart and Flavor Profile - Pitmaster BBQ Accessories for Smokers, Refrigerators and Metal Grills (Small)
Pitmaster's Control Board for the Fridge: Meat smoke guide has suggestions for pork butts and shoulders, tenderloins, ribs, beef brisket, chicken, turkey and fish
20 Popular Varieties for Your Smoker: Includes Pellet, chip, chunk, and log suggestions like apple, hickory, mesquite, mulberry, and walnut
Don't Get Cute with the Grill: These fridge accessories are the meat smoking guide for people who take pride in food they cook
Know the Right Temperature and the Right Taste: Mini Magnet Sheet contains grid displaying temperatures for your meat thermometer and identifies flavor profiles by wood used
Don't Be Caught Grilling a Bad Burger: Get your meat right with Cave Tools magnetic fridge recipe sheets
The smoking wood flavor guide magnet features an updated wood flavor chart based on recent recommendations from thousands of customer reviews and over 15 major wood pellet chip chunk manufacturers. Stick it to your refrigerator, smoker (careful), or elsewhere for quick reference while smoking.
Check Prices on Amazon