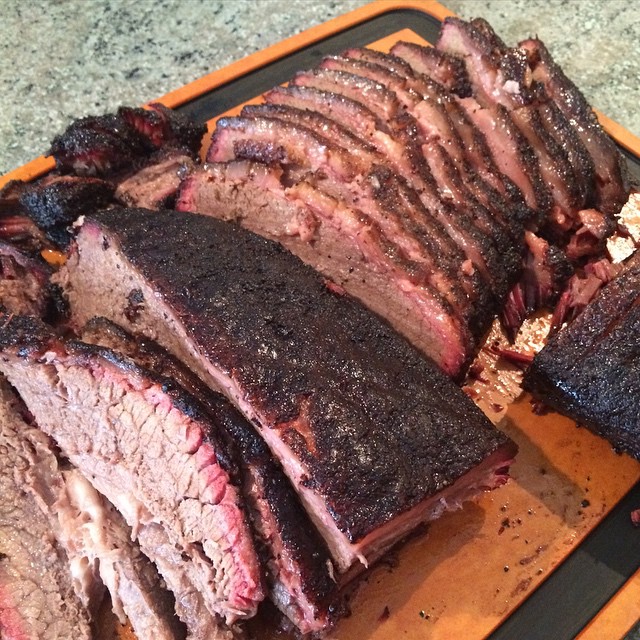 Brisket
Briskets are some of the most flavorful cuts that you can find. Typically seasoned with a simple blend of basic spices (salt, pepper, garlic, onion powder, celery salt, etc.) most BBQ experts let the brisket itself do the talking. Just like the spices, you also don't want your smoke to overpower or mask the flavor of the meat.
Because of the long smoking time of a brisket, you want to use a milder wood that is more subtle in flavor. Pecan and oak are generally regarded as the best wood for smoking brisket. However, there are other types of wood that are commonly used for smoking brisket, depending on the flavor profile you are attempting to achieve.
Your smoking wood selection may also be influenced by the amount of wood that you are using and whether or not you are combining the wood with coals to maintain heat in your smoker (as is often required with the long smoke times of briskets).
This article highlights several different types of wood that can be used to smoke our favorite cut of meat, the brisket. Whether you are using an offset smoker or electric smoker, we've identified the types of woods that will help you achieve the perfect smoke flavor.
Best Wood for Smoking Brisket
Oak and pecan are commonly regarded as the best types of wood for smoking brisket. If you want the best of both worlds, or can't decide which wood to choose, combining oak and pecan can give your smoked brisket great flavor.
Oak
Post oak, often marketed as white oak, is probably the most commonly-used wood for smoking brisket- just ask anyone from Texas. Oak pairs perfectly with a simple salt-and pepper Texas-style rub due to its mild, nutty flavor.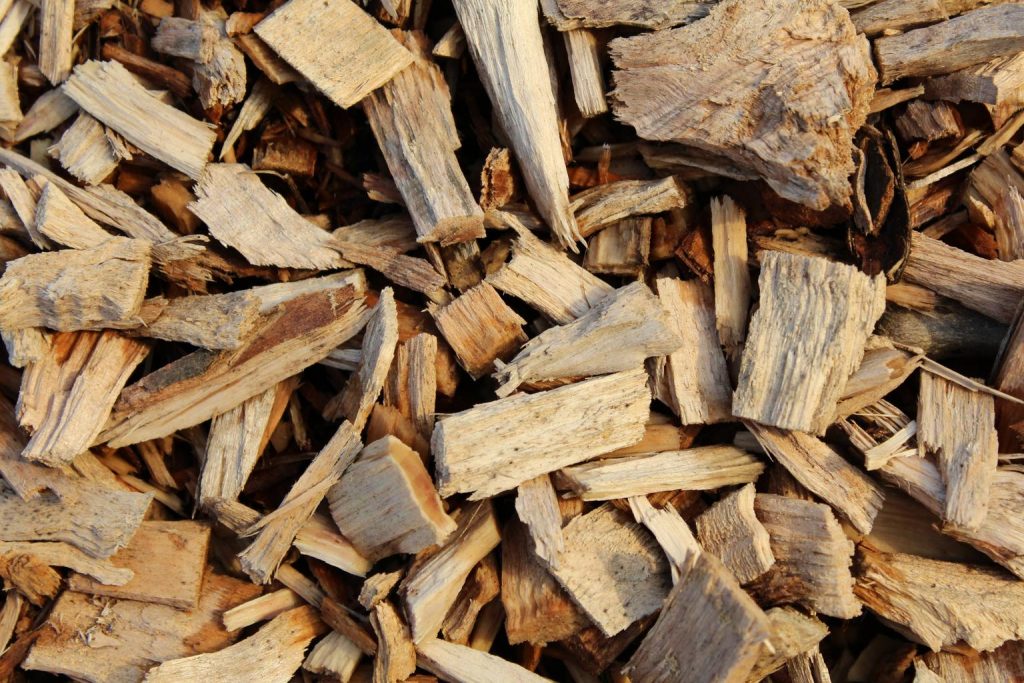 Post oak can also be used as a mild base for a combination wood mix with either hickory or mesquite. The mildness of the oak allows you to cut the stronger smoke flavor of mesquite or hickory, while still adding some depth to your brisket's flavor.
Oak Smoking Properties:
Heat Content: High
Sparks Produced: Low
Heavy Smoke: Yes
Coaling Quality: Excellent
Pecan
Pecan is another mild type of wood that is widely-regarded as one of the best woods for smoking brisket. Similar
Pecan Smoking Properties:
Heat Content: High
Sparks Produced: Low
Heavy Smoke: No
Coaling Quality: Good
Other Types of Wood
Some barbecue pros insist that briskets are able to handle stronger wood than some other cuts of meat. Cooking your meat over chunks or chips of these woods can give your brisket some additional, interesting flavors.
Hickory
Some suggestions can be found recommending hickory, however, we would generally advise against using straight hickory wood for smoking a brisket. You will likely end up with too much hickory flavor. If you do want to use hickory, do not use it for a long time, or make sure to cut it with milder woods such as oak or pecan.
Hickory Smoking Properties:
Heat Content: High
Sparks Produced: Low
Heavy Smoke: No
Coaling Quality: Excellent
Mesquite
If you are looking for a lighter, sweeter (and different) flavor for your brisket, mesquite is a popular wood choice among some smokers in the Southwestern United States looking to achieve a sweet flavor. Mesquite will give your brisket a savory, sweet, smoky flavor that perfectly complements the rich, tender meat of a brisket. Warning: mesquite is a very strong smoke flavor and is often considered too strong for the long smoke time of a brisket. Moderate the smoking time if using mesquite or your brisket will be oversmoked. Mesquite is not for everyone, but if you want a different flavor, it is worth a try.
Mesquite Smoking Properties:
Heat Content: High
Sparks Produced: Low
Heavy Smoke: No
Coaling Quality: Excellent
Fruity Woods
In addition to the more common smoking woods identified above, some barbecue professionals prefer to smoke their briskets on fruity woods including apple or cherry, but using these flavors should be done experimentally. They will often result in a more sweet, fruity flavor than many prefer.
Considerations
There are a few additional things to consider when smoking a brisket. One of the most important things is to identify the type of wood you will need for your smoker. Electric smokers, pellet grills, and offset smokers all require their own, unique wood formats. Whether chunks, chips, logs, or pellets. Additionally, are you going to use coal in your BBQ smoking? If so, you likely want to get wood chips to spread over the coals rather than using full logs or larger wood chunks (although these can still be used).
Conclusion
As we always say, taste is a very personal and your brisket will most likely be delicious no matter what wood you use. We cannot definitively say that one particular type of wood is a great choice for smoking brisket. Rather, we are sharing our own experiences, as well as the experiences of other BBQ professionals that we have talked to.